What is "XX Yashiki" found on old maps?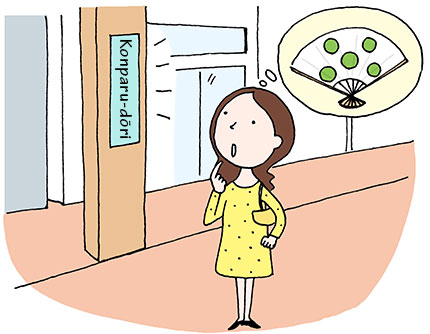 In the Edo era, Noh actors were employed by the national or local government, who provided them with allowances for living expenses. In addition, the head of each school was given a property in Edo by the shogun family. If you look at old maps, you will find addresses that contain the names of Noh schools, in the form "XX Yashiki" or "XX Tayū" (XX indicating the school name).
Over the years, these properties moved several times. Look at the Ōmiya version of the "Edo Kiriezu" picture map, issued around 1850, in the late Edo era, and you will find Kanze Yashiki and Konparu Yashiki in the area now known as Ginza. Kanze Yashiki was in Ginza 2-chome and Konparu Yashiki in Ginza 8-chome.
In the neighbourhood of the former Konparu Yashiki, a street in Ginza 8-chome (behind Hakuhinkan Toy Park) is still called "Konparu-dōri." Every August, the "Nōgaku Konparu Matsuri" (Konparu Noh Festival) is held here and enjoyed by visitors.
Although there are no historic scenes at the site of the former Kanze Yashiki to remind us of its past, the Kanze Noh Theatre will soon move back to Ginza from Shōtō in Shibuya-ku. The new Kanze Noh Theatre will open in 2016, in the basement of the redeveloped building on the site of Matsuzakaya Department Store, renewing the relationship between Ginza and the Kanze School after a gap of about 150 years, since the school returned the Kanze Yashiki property after the Meiji Restoration.
TRIVIA ARCHIVES