What kind of place is the setting for "Utou"?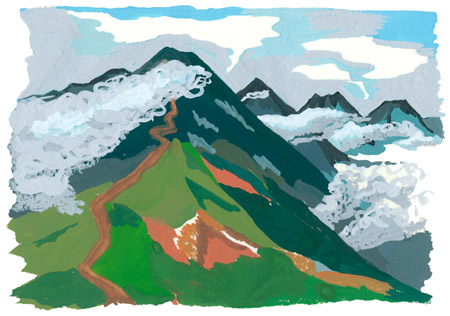 The main setting of "Utou" is Tateyama (Mount Tate) in the province of Etchū (modern-day Toyama Prefecture), in Japan's Northern Alps. Over 3,000 meters high, Tateyama is now a popular tourist destination that offers pleasure to people in all seasons, thanks to the well-maintained Tateyama Kurobe Alpine Route. Traditionally, however, it was known as the "Hell Mountain of Tateyama" and the object of worship, because of its landscapes of sulphur gas belching out into the air from between steep bare rocks.
Tateyama was included as a place of gods in a poem in the Man'yō-shū (the oldest anthology of Japanese tanka poems). As Buddhism spread during the Heian and Kamakura Periods, the mountain began to be considered a place where Hell was real. Thus, the name "Hell Mountain of Tateyama" became popular and spread via legends and folktales. "Utou" may trace its origins to such traditions. The leading actor of the play shows dark scenes of grisly hell based on the well-known Tateyama landscape.
In the Edo Period, pilgrims' lodgings and climbing routes were prepared under the protection of the Kaga clan. People from all around the country visited the mountain believing that if they visited hell alive, they would be reborn in Paradise. This followed nation-wide promotional activities using graphic representations known as "Tateyama Mandala," at first conducted by pilgrims from the lodging temples, then by household medicine peddlers from Toyama.
TRIVIA ARCHIVES