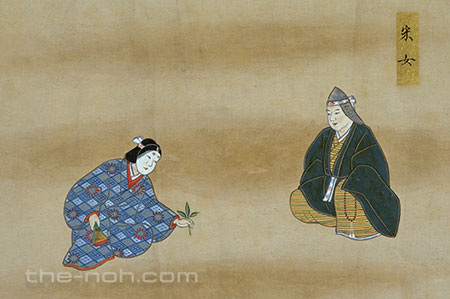 A monk travelling around the provinces leaves Kyoto and heads toward Nara. One spring evening, he arrives at the village of Kasuga and encounters a local woman at Kasugataisha Shrine. As she is planting trees in a thickly growing forest, the monk is intrigued and asks her why she is doing so. The village woman talks about the origin of the gods enshrined in Kasugataisha Shrine, explains the reason why she is planting trees and encourages the monk to offer prayers to the gods. She then takes the monk to Sarusawa Pond and tells him the story of a lady-in-waiting who was loved by an emperor but after his feelings for her cooled, was so grief-stricken that she ended up drowning herself in this pond. She reveals that she is the ghost of the lady-in-waiting and vanishes to the bottom of the pond.
When the monk performs sutra recitation by the side of the pond, the lady-in-waiting appears, looking exquisite. She tells stories describing a lady-in-waiting's role and duties at the imperial court and continues to dance in the moonlight. She then praises the reign of the emperor, prays for everlasting peace in this land, and returns to the bottom of the pond.


This play is based on the legend of a lady-in-waiting in Yamato Monogatari (Tales of Yamato), with some added elements such as the origin of Kasugataisha Shrine, the merits of the Lotus Sutra, and poems from Kokin Waka-shū (Collection of Japanese Poems of Ancient and Modern Times). One account notes that Zeami revised an ancient Noh drama, Tobihi (Flying Sparks), to create this play, Uneme. In ancient times, the title "uneme" was conferred upon female attendants who served emperors. Only exceedingly beautiful sisters and daughters of regional noble families were selected to serve in this position. The lead character of this play is one of those women. She narrates her tragic love story and also performs elegant dances.
One highlight of this drama is the performance from the kuse to jo-no-mai section. This dance is performed without the accompaniment of a drum. Among the Hon-sanbanme-mono (the third group Noh dramas in which a performer dances jo-no-mai wearing a pair of scarlet hakama trousers), this play requires advanced skills for performers as it has the largest amount of prose, covering a wide variety of subjects. The Kanze School has a special version of this play called Minaho-no-den, a late Edo era rewriting of the original.
---
STORY PAPER : Uneme (Lady-in-Waiting)

[Uneme (Lady-in-Waiting) : Story Paper PDF : 495KB
]