Please click top right button for detailed information, photo story.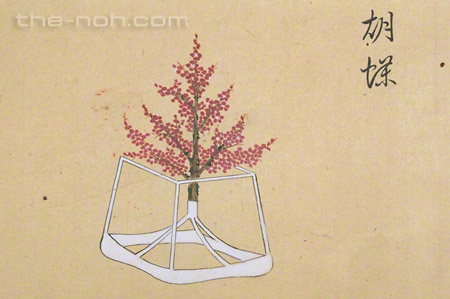 Photo from National Noh Theatre


A monk living in a deep mountain in Yoshino in Yamato Province (present-day Nara Prefecture) visits Kyoto in early spring. Arriving at the Ichijō Ōmiya area, he finds an exquisite plum tree blooming on the grounds of an imperial villa. While viewing the blossoms, a woman talks to the monk. As the monk inquires about her name and the history of the building, she tells its history but conceals her name. When he inquires once again, the woman reveals that she is a butterfly who laments that she cannot have the chance to enjoy plum blossoms. She then tells the monk she wants him to recite a holy sutra for her so she can become a Buddha. After announcing that she will appear in his dream at night, she disappears in the evening sky.
At night the monk lodges under the plum tree, recites a sutra, and sleeps. Appearing in his dream is the spirit of the butterfly. After expressing her delight at seeing the plum blossoms in her dance, she flies away to the dawning sky.


Although this piece includes the episodes relating to "the Butterfly Dream" of Zhuangzi in China and the chapter of Butterflies in the Tale of Genji, the story itself is quite simple. The theme is a poetic fantasy; a butterfly who has been lamenting that she cannot see plum blossoms encounters a wonderful plum blossom at a beauty spot in Kyoto and dances with joy. Therefore, it seems that the descriptions regarding the bond with Buddhism are included in this piece simply as the result of following the conventional practice of Noh stories.
Unlike the other pieces in the Third category, which are likely to cherish a soft, mellow, and relaxing atmosphere, this piece is light and airy, assumedly because this is a story about a butterfly. This drama will allow you to enjoy the exhilarating spirit of welcoming spring at the beginning of the season.
---
STORY PAPER : Kochō (Butterfly)

| Terms of Use | Contact Us | Link to us |
Copyright© 2022 the-NOH.com All right reserved.