Please click top right button for detailed information, photo story.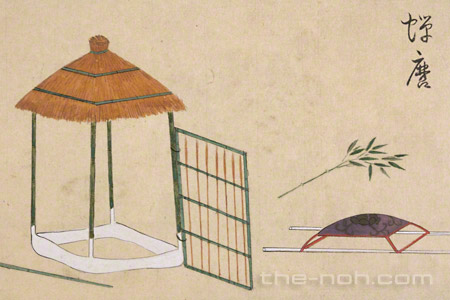 Photo from National Noh Theatre


The fourth child of Emperor Engi (Emperor Daigo, 885-930), Prince Semimaru was born blind. One day an imperial officer, Kiyotsura who has received an order from His Imperial Majesty to abandon Prince Semimaru on Mount Ōsaka, takes the prince to the mountain. Prince Semimaru calms the lamenting Kiyotsura by preaching to Kiyotsura how this has happened based on a wise decision by His Majesty who is taking into consideration the happiness of the prince in his next life. Kiyotsura shaves the prince's head to have him renounce the world and gives him a straw raincoat, rain hat, and cane before they part. In tears, Prince Semimaru who is now alone holds his biwa (a Japanese lute) to his chest, staggering and tripping over the mountain. Hakuga no Sanmi who comes to check on Prince Semimaru finds him in the misery. Out of pity, he constructs a straw hut to keep the prince out of the rain and dew and invites the prince in.
The third child of Emperor Engi, Princess Sakagami has hair growing towards the sky by nature. Although she is a princess, due to this physical uniqueness, she goes mad and wanders remote country areas. Princess Sakagami leaves Kyoto and arrives at Mount Ōsaka. She stops upon hearing the sound of a lute coming from a straw hut and talks to her brother, Prince Semimaru, when she finds him in the hut. The brother and sister embrace and share their lonesome stories.
However, their situation does not allow them to keep talking and shedding tears this way. Princess Sakagami bids farewell to her brother. While concerned for one another, the brother and sister part once again in tears.


Prince Semimaru and Princess Sakagami were born noble brother and sister as children of an emperor, but they were not allowed to enjoy an elegant lifestyle but to the contrary were forced to live under harsh conditions. These two unfortunates encounter each other in a remote area of Mount Ōsaka, whose name indicates "meeting." This is a story describing siblings who feelingly talk about their own lives and separate again. This is not a piece filled with dramatic stories and visual effects, but rather attracts the audience by its superbly formulated characters, scenes, theme, and story development. This is indeed a masterpiece.
The scene in which Prince Semimaru who was forced to renounce the world cites an old poem and picks up a straw raincoat, rain hat, and cane, with which he has previously never needed to be familiar... The scene in which he cries with his lute in his chest and stumbles... The scene in which Princess Sakagami leaves Kyoto in early autumn from the Awata-guchi gate and passes the Higashiyama area along the way to Mount Ōsaka... The scene in which she sees her reflection in water and is surprised at her own abject appearance... The scene in which the brother and sister meet and embrace in a shabby straw hut, and the scene which they separate again in tears... Each scene strongly, if gently, appeals to the audience's heart, leaving a clear and unforgettable impression. Two people of the noble class who were born with difficulties show their sincere feelings as time quietly flows past. You will feel love and nostalgia in the scenes describing their feelings.
---
STORY PAPER : Semimaru

| Terms of Use | Contact Us | Link to us |
Copyright© 2022 the-NOH.com All right reserved.