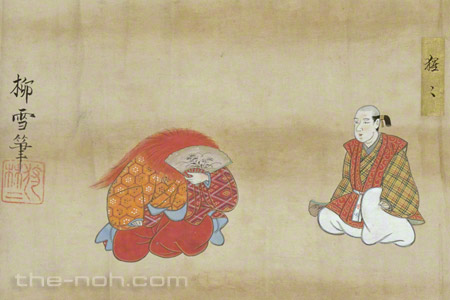 Once upon a time in China, a man lived in the village of Yōzu, at the foot of Mount Kanekin-zan*. The man, whose name was Kōfū, was filial to his parents and cared about them very much. One night, he had a dream which advised him that he would become rich and prosperous if he sold liquor at the market in Yōzu. Following the dream, he began to sell liquor and became richer and richer.
Something mysterious happened at the market where Kōfū ran his liquor stall. A certain customer regularly came to buy liquor from Kōfū and drink it, but no matter how much he drank, his face never turned red. Wondering about this, Kōfū asked his name, and the man revealed that he was Shōjō, who lived in the ocean.
That day, Kōfū went to the beach of the Yangtze River carrying liquor and waited for Shōjō to appear. Appearing in front of him was Shōjō, who was drunk and became red in the face. Shōjō expressed his delight that he could meet his friend Kōfū, and he drank and danced. He lauded the amiable Kōfū and presented him with a crock, from which the liquor automatically springs forever, in order to express his appreciation for the liquor until that day. Then, he lay down in a drunken stupor. This meeting actually happened in Kōfū's dream. However, the magic crock was left with him, and his family enjoyed prosperity for a long, long time. This is a truly happy story.
*Mount Kanekin-zan is a mountain located by the Yangtze River in Jiangsu Province in China. There are two mountains in China which are pronounced "kin-zan" in Japanese. Therefore, in order to differentiate them, the one which uses the character for 'metal' was called "Kanekin-zan" and the other which uses the character for 'path' was called "Komichikin-zan."


This drama is filled with a celebratory atmosphere. It is often performed with Kogaki or special staging features**, whose performances are called "Midare" or "Shōjō-midare". When this piece is performed in these special styles, the shite or protagonist performs a unique dance, "midare" instead of chū-no-mai. In this case, this drama is called "Midare" or "Shōjō-midare", not "Shōjō", in the program. "Midare" and "Shōjō-midare" are categorized as one of the hiraki-mono, the group of Noh dramas which demand highly advanced technique and psychological maturity of the performers. It therefore requires special training to perform. Other than this unique dance, the other special staging features include funny ones, such as showing wine jars and bringing many Shōjō on the stage.
The story is simple, therefore the focal point is not in the storyline but rather in the expression of the celebrating, auspicious atmosphere. Please enjoy the dance of joy of Shōjō, a winsome monster with a red face.
**Kogaki (special staging features): special staging features which are performed in different styles from the usual ones.
---
STORY PAPER : Shōjō

[Shōjō : Story Paper PDF : 340KB
]