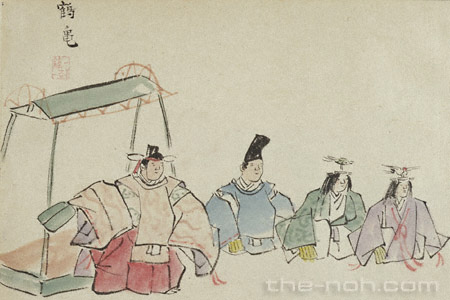 In ancient China, a New Year celebration is being held at the Emperor's palace. A palace official serving the emperor appears and announces the entrance of the Emperor into the Moon Palace. The aristocrats within his court are all encouraged to come to see His Majesty. When the emperor comes at the Gate of Eternal Youth to see the shining sun of the New Year, all of his people raise their voices in celebration of the New Year, echoing even to Heaven. The garden of the palace is filled with gold, silver and gems and appears exquisite. In this atmosphere filled with joy and beauty, the Senior Minister of His Imperial Majesty steps forward and encourages His Majesty to have the crane and tortoise dance to music as happened in the past and hold a music party afterwards at the Moon Palace. When a crane and tortoise dance to celebrate His Majesty's longevity, the delighted emperor himself dances as well. After the aristocrats have also danced and enlivened the gathering, the emperor gets on a palanquin to return to the Hall of Everlasting Life.


This very short Noh drama is often selected as the very first practice piece for novice Noh performers. Depending on the arrangement of the respective schools, this piece includes sufficient amounts of strong and weak chants and dialogues. The types of chants are simple but diverse, making it not only accessible but also interesting for Noh beginners.
However, the shite (lead role) of this piece is an emperor and "gaku" (a dance performed by characters holding a Chinese fan in many times) is included in the piece, hence the piece is not of less importance but rather holds great dignity and is difficult to learn. Accordingly, it takes time for performers to learn this piece.
The crane and tortoise are often played by Kokata or child actors. Their adorable performance is one of the highlights of this piece. The contrast between the emperor's majestic "gaku" and children's performance makes this drama even more intriguing.
Since it is familiar even to beginners, presents a celebration and the chanting is easy to follow, many people will enjoy watching Tsuru Kame easily.
---
STORY PAPER : Tsuru Kame (Crane and Tortoise)

[Tsuru Kame (Crane and Tortoise) : Story Paper PDF : 345KB
]