Please click top right button for detailed information, photo story.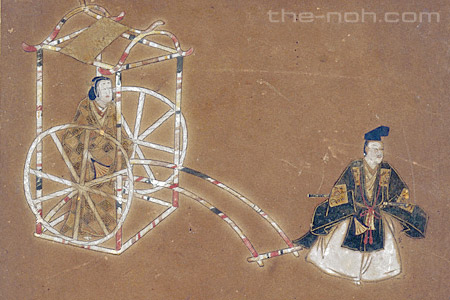 Photo from National Noh Theatre


Yuya, the mistress of an inn in Ikeda in Tōtoumi (present-day Shizuoka Prefecture) serves the power-holder Taira no Munemori of the Heike clan, in the capital. Because she has heard that her mother at her home is seriously ill, she asks Munemori to allow her leave to return home. However, Munemori does not grant her request, because he wants to enjoy the cherry blossoms with Yuya. Around that time, Asagao, a woman serving Yuya's family, visits her with a letter from her mother. In the letter, her mother pours out her desperate desire to see Yuya before leaving this world as she has been seriously ill. Yuya, who does not want to waste even a second where she is, reads her mother's letter to Munemori, and asks his permission to let her go home. But contrary to her hope, he orders her to accompany his entourage to enjoy cherry blossoms at Kiyomizu-dera Temple.
Even as she looks at the people who are enjoying the full spring beauty, Yuya's heart is filled with concern for her mother and home. When she reluctantly dances at a party, a sudden drizzle causes the cherry blossom to fall. Yuya, who observes the falling blossom, reads a poem to express her feelings of love for her mother. Yuya's love expressed in her poem thaws Munemori's stubborn heart, and Munemori finally allows her to return home. Yuya quickly departs to home before he changes his mind.


This noh drama is genzai-noh, which includes some additions to the original episode of Munemori and his concubine. Together with another Noh drama, Matsukaze, Yuya has been a popular piece for a long time. A Japanese phrase praises "Yuya" as "Yuya, Matsukaze, and cooked rice (Yuya and Matsukaze are as good as cooked rice)," which indicates that you will never get bored with these three.
This noh drama describes a beautiful woman, who is tossed about by Taira no Munemori, the man in power. The biggest attraction of this drama, however, is that it clearly contrasts the bright spring atmosphere of Kyoto with the gloomy scenery in Yuya's mind. Such a distinction between light and shadow makes a profound story. The beautiful phrases of utai (vocal music) describe the scenery from the window of an ox-drawn carriage, which takes her to Kiyomizu-dera Temple, the venue for seeing cherry blossoms. It is marvelous that vocal music and dance are effectively included to express Yuya's restless heart along with the changing scenery on the road.
---
STORY PAPER : Yuya

| Terms of Use | Contact Us | Link to us |
Copyright© 2022 the-NOH.com All right reserved.